I purchased a copy of Jasmine Silvera's Binding Shadows through Amazon.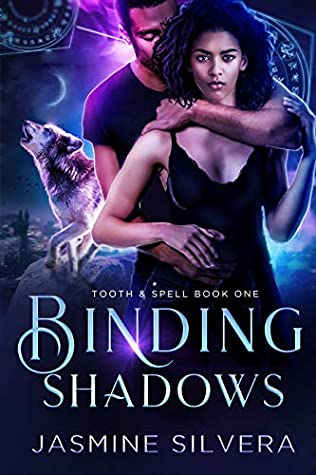 Description from Goodreads:
There are two rules: find a way to use your magic and never reveal it to anyone.

Hunting down lost books is more than a job, it's a way for Barbara to conceal her powers in the mundane world of the university library. One misstep and she risks exposure to ruthless necromancers willing to destroy anything supernatural they cannot control. But when the prickly new professor in charge of her latest assignment proves more than he seems, rules and reason are no match for her growing fascination.

After years of battling to cage the beast within him, Tobias returns to Prague and the safety of his pack of brothers. Unfortunately, his new job handling a collection of rare editions comes with a research assistant irresistible to both beast and man. Revealing his secret could endanger his entire family and he refuses to risk passing on the curse in his blood.
When the discovery of an enchanted book of spells triggers unpredictable surges in Barbara's magic, unleashing the beast within himself may be the only way to free her. Trapped between a witch and a necromancer, they must survive a perilous reckoning with the past, or neither will have a future.
Review:
I absolutely loved this—grumpy, cinnamon bun hero, and a smart librarian heroine. Their romance was adorable. The mystery kept me engaged. The world was interesting (if a little vague). And the side characters made me laugh. On finishing, I immediately went to try and buy the sequel, which isn't out yet. Why does the universe punish me like this? WHY?
My only criticism is that the book could have done with another pass from a copy editor. There are the occasional double words and thought/though kind of mishaps. But it was not enough to make me not love this. Since I couldn't get Gruff Older Brother's book (because that's who it better be about) I went ahead and bought the first in the Grace Bloods series instead.