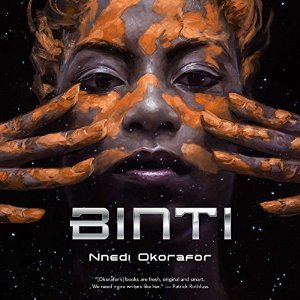 I borrowed an audio copy of Binti
, by Nnedi Okorafor, from my local library.
Description from Goodreads:
Her name is Binti, and she is the first of the Himba people ever to be offered a place at Oomza University, the finest institution of higher learning in the galaxy. But to accept the offer will mean giving up her place in her family to travel between the stars among strangers who do not share her ways or respect her customs.
Knowledge comes at a cost, one that Binti is willing to pay, but her journey will not be easy. The world she seeks to enter has long warred with the Meduse, an alien race that has become the stuff of nightmares. Oomza University has wronged the Meduse, and Binti's stellar travel will bring her within their deadly reach.
If Binti hopes to survive the legacy of a war not of her making, she will need both the gifts of her people and the wisdom enshrined within the University, itself – but first she has to make it there, alive.
Review:
Really wonderful. I enjoyed this a lot. I liked the way the author created so much of a world (universe) with so little. I loved Binti and the slow(ish) trust that develops between her and her enemy. But I was a tad bothered that despite her skill as a harmonizer, her success ultimately depended on chance, on something she randomly found years earlier. And I thought the ending came about far too easily. But mostly I adored this.
Robin Miles did a wonderful job with the narration too. She had a whistle on her hard S that was painful in headphones, but that was my ONLY complaint.