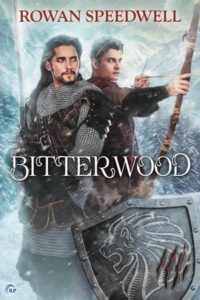 I received a copy of Bitterwood, by Rowan Speedwell from Netgalley.
Description from Goodreads:
Outrunning a winter storm in the north, Captain Faran of the King's Guard leads his men and a young mage named Meric to shelter at Bitterwood Manor, the ancestral home of the Daenes. Faran and his troops have been searching for weeks for a mysterious, lion-like beast that reportedly haunts the uncharted northern woods. For Meric, finding that prophesied cat is a matter of life and death.
Though Faran is deeply focused on their mission, the enigmatic Joss Daene, Lord of Bitterwood, fascinates him. Strong and proud, Joss is everything Faran wants in a lover. More, if he were honest. But Joss belongs to Bitterwood, and Faran to his duty.
Together they will need to brave the oldest, darkest part of the Bitterwood in the coldest, deepest snows of winter to find the legendary cat. But time is running out—for Meric, for the kingdom, and for Faran and Joss's fledgling love.
Review:
This was a cute, sweet story of little depth but plenty of 'aww' moments. For flat out feel-goods this is worth picking up. If you're looking for fleshed out characters or significant plotting, maybe not so much. I thought everyone was just a little too goody-goody to be taken seriously. Everyone was kind, considerate, generous, and instantly in love. Again, it was sweet and I enjoyed it, but it's not to be taken seriously.
I was however thrilled to see that the mystery of the Daene cat didn't work out the way I expected and a surprise is always a nice thing to find. Similarly, I liked that the mature, softer around the middle people got a love story too. That is a rare thing. So, for those who like prioritize heart and flowers over twisty plots, this will likely be a winner.