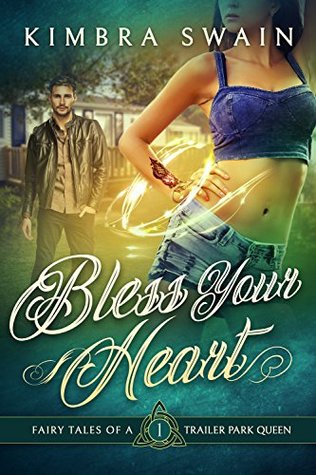 I purchased an e-copy of Kimbra Swain's Bless Your Heart.
Description from Goodreads:
Scorned by her family. Banished by her kind. Hunted by zealots.
Where does an exiled Fairy Queen hide?
A remote mountain cabin, the seedy underbelly of a metropolis, or an uninhabited island. All would be good choices, however, after hundreds of years on the run, the daughter of Oberon, King of the Wild Fairies, signs a binding contract with the zealots that hunt her. In exchange, they allow her to settle down in the last place anyone would look for fairy royalty.
Adopting the name Grace Ann Bryant, the Queen buys a double-wide and moves into a trailer park in the one-horse town of Shady Grove, Alabama. Her contract requires her to lend aid to the local sheriff, Dylan Riggs, when supernatural problems arise.
But when two children go missing, the humans point to the trailer park queen helping the sheriff, and the zealots point at the exiled fairy. Grace must decide whether to fight for her innocence or break her contract returning to life on the run.
Bless Your Heart is a Southern Urban Fantasy that will make you laugh, cry, and laugh until you cry, as Grace wrestles with the dark fairy inside herself and starts to see that she's more than just trailer trash.
Review:
This was a cute story let down in the execution. It really needs another copy editing pass, to catch misplaced commas, missing words and homophones and such. Plus, someone really needs to sit the author down and discuss the fact that people DON'T SAY NAMES IN EVERY CONVERSATION. It's one of my biggest dialogue pet peeves. It's redundant and annoying, and Swain is particularly bad about it. I almost DNFed the book pretty early on honestly, because of it.
Beyond that, I didn't believe the twist at the end (in the church). Grace would have to be exceedingly oblivious, moving into Too Stupid To Live territory, to really not have noticed ANYTHING until the big reveal. And could/would the town really have kept that secret so well? Plus, keeping the secret from her doesn't even make sense.
All in all, I did actually like the characters and I appreciated the male/female platonic friendship. But beyond that, the book didn't live up to what it could have been.