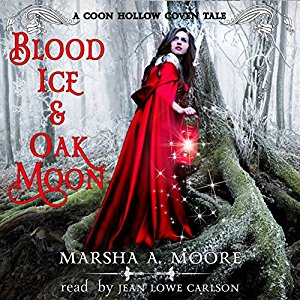 I won an audible copy of Marsha A. Moore's Blood Ice & Oak Moon.
Description from Goodreads:
Esme Underhill is about to discover a darkness hidden inside her that could destroy her chance for independence and possibly kill her.
Esme's mother took her young daughter away from Southern Indiana's Coon Hollow Coven to prevent her from learning about the unusual witchcraft she had inherited. When Esme is twenty-seven, her beloved Grammy Flora passes away and leaves her property in the Hollow to her granddaughter. With this opportunity to remake her life and gain independence, Esme attempts to emulate Grammy Flora as a wildwood mystic who relies on the hedge world of faeries to locate healing herbs. But fae are shrewd traders. When they open their world to her, she must meet the unknown malevolence of her birthright.
Thayne, the handsome king of the fae Winter Court, faces his own struggle to establish autonomy as a new regent. He is swept into the tempest of Esme's unfolding powers, a dangerous threat to his court. His sworn duty is to protect his people, despite Esme's beauty and allure, which tear at his resolve.
Both Esme's and Thayne's dreams of personal freedom are lost…unless they can trust each other and overcome surmounting dangers.
Review:
Sigh. This may just be a case of a book being poorly matched to a reader, but I didn't much care for this. It wasn't all out bad, but it wasn't great either. If I had to break the review of my experience with this down to one statement, it would be both the book and the audio narration (by Jean Lowe Carlson) were only ok. Neither very good, but not all out bad either, or at least not to my liking.
I found the writing, especially the dialogue really stilted and stiff. This was apparent in the actual writing, but I think it was exacerbated by the way it was read by Carison.
Some people will probably like this kind of Mary Sue heroine, but I don't see the appeal. She was 27, but the book reads like it is YA. Esmerelda was constantly on about becoming (not being, but becoming) and independent woman. Despite this, she was also always moaning about her mom, or daddy or grammy. And in the end, wanna know what she felt made her feel more independent than anything ever did before? Getting married. Arg, someone get me a drink STAT! And this after spending most of the book all cut up because of one bad past relationship. It was cliched.
She also defeated an all-powerful enemy with presumably hundreds of years of training and experience in less than a page with no training or experience of her own. I won't quite call it deus ex mechana, because she had the power already. But I also couldn't believe it.
I felt no chemistry between Esmeralda and Thayne and at no point did I see their relationship develop. They were just in love all of a sudden and she was being handed a princess' happily ever after for no apparent reason.
I didn't truly understand why her and her black amber were so sought after. I have no idea what the underlying motivation of at least one of the villains was, and only a vague idea about the others. (And why have so many independent enemies?) And at one point an established dictum of the universe, that fae can't lie, is broken.
All in all, this is a strong case of 'special snowflake' heroine and I didn't care for it. But I bet others really will.