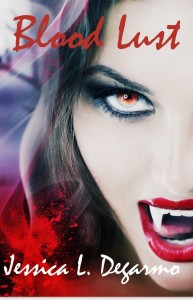 Jessica L. Degarmo's Blood Lust came from the Amazon free list in Feb. or 2013. That means I've had it two years and it qualifies for my TBR reading challenge. It's also the first Degarmo book I've ever read, so it qualifies for my First Reads challenge. I'm also in the middle of a Blood Lust reading challenge and it's the third book in a row that I've read with that same title.
Description from Goodreads:
In the heart of Chicago, two street gangs battle for control of the city.
Nexess was once a young girl named Elizabeth. Now she's the private property of gang leader Antonio Bianchi, sex slave and assassin for his gang, Nuove Leve. Night after night, Antonio sends her out to do his bidding, and when she returns, she must bow to his every desire.
When a chance encounter introduces her to one of her own kind, Nexess must decide between good and evil. Or maybe the lesser of two evils.
Will Jace convince Nexess to leave Antonio, or will she stay with the man who may be her salvation … or her damnation? Love, lust and loyalty all come into question as Nexess struggles to overcome, or to accept, her own blood lust.
Review:
Christ almighty did I hate this book! It's not that it's a badly written book. The editing could use a little attention and the writings a bit stiff and repetative, but on the whole, it's not bad. I just plain hated the story, the characters, the plot, everything.
The whole thing was essentially one woman being psychologically, emotionally, sexually, physically and domestically abused. I suppose the author might have intended her to seem strong to have survived it, but I never made it to the strong part.
At one point I posted a reading update along the lines of 'I don't care if she was only a teenager when all of this happened to her. I don't care if she was abused. I don't care if she supposed to have been conditioned like a Pavlovian dog. I don't care if she's supposed to have Stockholm Syndrome or whatever. Right now she is TSTL and I kind of hate her.' (Though in actuality, I'm fairly sure Pavlov used positive conditioning, which is the opposite of Nexus' but we'll let it stand.) Having finished the book, I find that that is still my strongest reaction to the book as a whole. Thank goodness for Alphonso. He was the only redeemable feature of the whole thing.
Now, I'm not oblivious to the correlation the author made to addiction and she actually did a good job likening Nexuses dedication to her 'Master' as an addiction and highlighting the very real and complicated reasons that abused women stay with their abusers. But again, I did not at all enjoy the journey of this book.
What's more, Nexus was always begging to be fucked (that's the language used in the book) and fell into insta-lust with the first male vampire she met. This felt so very much like the old, 'women can't control their own sexual urges' trope that I was pretty much sickened by it.
This book has great reviews. People must have very different taste than me, because I can't imagine what those reviews are based on. I hated it. But to each their own. I am only one of many differing opinions.