So, there I was, reading the second book in my Blood Moon Challenge (Blood Moon (Moonstruck #1), by Silver James) and I realized I'd read it before. It took 5% for me to be certain, but eventually I was. Oddly, I see no evidence that I posted a review here for it. So, I'm going to go ahead and rectify that, but I don't suppose it counts as a legitimate challenge read.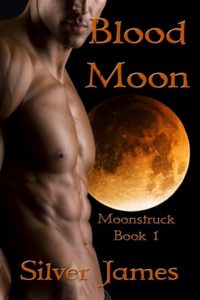 I picked the book up on Amazon, when it was free.
Description from Goodreads:
Army Major Hannah Jackson knows where the skeletons are hidden at the Pentagon and now she's been tasked with keeping the secrets of Army Special Sci Ops Unit 69—the Wolves—and their secret is a doozy. That a civilian corporation wants to exploit the Wolves is a matter of pressing concern.
Sergeant Major Ian McIntire doesn't trust Hannah as far as he can throw her—and that's quite a ways considering he's an alpha werewolf. The woman is a pain in his butt and with the Blood Moon coming, the unit needs to complete their mission and get home before tempers flare. While she might know most of their secrets, the one she doesn't know about the moonstruck Wolf might just get them all killed.
When a covert operation goes wrong, Mac must trust Hannah to save his men—and his heart. Secrets, lies, and betrayals are more personal under the full moon, but when a Wolf loves a woman, he'll do whatever it takes to keep her safe.
Review:
This novella started off so well…and then went to total shit. In the beginning we're introduced to sexy Alpha among Alphas, Mac and the sexy, capable, strong-willed Hannah. Everything was looking good. I was loving the narrative predominantly from Mac's POV and thrilled to be reading about a heroine who was competing on par and impressing all the type A, military men. You go girl!
Then about 25% through the book the sexual tension cranked up and Hannah's IQ dropped by about 50 points, as did her sense of balance and calm. All of a sudden she was scared and crying every 10 minutes, stumbling over tree roots (where before Mac had been impressed with her ability to soldier on unaided), and bordering on hysterics for all of the rest of the story. And no, for the record, just because he tells her repeatedly that she's strong and resilient doesn't actually make her so. It's condescending and pat.
I get that she had a bit of a shock. Totally get that. But why did she have to become so very weak in order for his masculinity to come through? He would still have been plenty manly even if she didn't fall to pieces. I sure didn't see any of the men crying over a little gun fight.
The story also felt very much like the middle of a longer piece. There is obvious history with Hannah and her job with the military and the Wolves' need to rescue Torjak. Then there is a lot left unexplored on the return to Virginia. Not once did Mac and Hannah manage a normal, rational conversation about their future. I would have liked to know how that was addressed.
I had a hard time looking past Hannah's crumbling facade. It ruined the story for me. But I did find that I liked the writing style a lot. The POVs shifted a bit too quickly at times, but that was easily looked over. I also thought the basic structure of the world Silver James created was interesting. It was only thinly sketched out, but I saw the possibility of some entertaining future books in it. I'd be willing to give another one of her stories a shot.