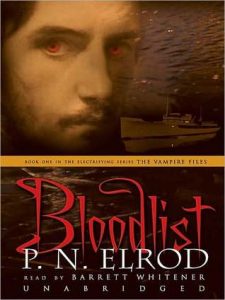 I borrowed an audio copy of P. N. Elrod's Bloodlist from my local library.
Description from Goodreads:
Jack Fleming, ace reporter, always had a weak spot for strange ladies. And he certainly should have listened to the one who said she was a vampire! Because when a thug blasts several bullets through Jack's back, he does not die–and discovers that he is a vampire as well!
Review: 
Well, that was something I listened to. I can't say I loved it, not that it was actually bad. I was just rather bored with it, having expected more. The vampire aspect was totally pointless, Jack could have just been any prohibition-era gumshoe. (And I say that as someone who loves a good vampire novel.)
I did appreciate that he wasn't an alpha-asshole. He admitted to fear, cried and cared about his friends. It humanized him.
The book does suffer from the classic lack of female characters though. There is only one female character at all and she, of course, is the sexpot hooker-with-a heart. Cliched beyond mention!
Whitener did a fine job with the narration.