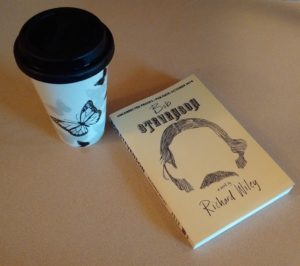 I won a paperback ARC of Richard Wiley's Bob Stevenson through Goodreads:
Description from Goodreads:
Dr. Ruby Okada meets a charming man with a Scottish accent in the elevator of her psychiatric hospital. Unaware that he is an escaping patient, she falls under his spell, and her life and his are changed forever by the time they get to the street.
Who is the mysterious man? Is he Archie B. Billingsly, suffering from dissociative identity disorder and subject to brilliant flights of fancy and bizarre, violent fits? Or is he the reincarnation of Robert Louis Stevenson, back to haunt New York as Long John Silver and Mr. Edward Hyde? Her career compromised, Ruby soon learns that her future and that of her unborn child depend on finding the key to his identity. 
Review:
I'm approaching my 300th book of the year (It's Sept.) and I bet I haven't given a dozen books five stars. But Bob Stevenson deserves it. Heck, I'd probably give it five stars for Gerard alone, who has to be the cutest, most genuine character I've read in a while. He was a true pleasure to read and I adored the way people accepted him into their lives and loved him too.
But the rest of the characters were of interest as well. Ruby, who finds herself in a baffling and embarrassing situation. Archie/Bob who is fighting his own demons. Dr. Utterson and Bette, who provide the necessary sidekicks, along with Dad and the nun. All engaging in their own way. Granted, you never get to know them deeply, but they fulfill their role succinctly.
The writing is marvelous. I laughed repeatedly at the dry humor. The fact that you're never wholly sure where the surreal stops and the actual paranormal might pick up kept me biting my nails. Lastly, I was thrilled to see non-white main characters and people successfully functioning with disabilities. All in all, a real winner for me.
---
What I'm drinking: My husband makes amazing coffee. He uses an aeropress and puts a dollop of heavy whipping cream in it. Yeah, heaven. I read Bob Stevenson while one on the go, and Hubs sent me off with the ambrosia of life.