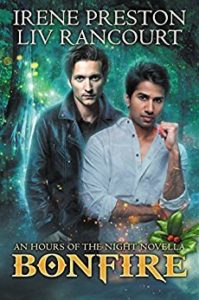 Irene Preston and Liv Rancourt sent me a copy of Bonfire for the purposes of review. I reviewed the first in the series earlier in the year.
Description from Goodreads:
Thaddeus and Sarasija are spending the holidays on the bayou, and while the vampire's idea of Christmas cheer doesn't quite match his assistant's, they're working on a compromise. Before they can get the tree trimmed, they're interrupted by the appearance of the feu follet. The ghostly lights appear in the swamp at random and lead even the locals astray.
When the townsfolk link the phenomenon to the return of their most reclusive neighbor, suspicion falls on Thaddeus. These lights aren't bringing glad tidings, and if Thad and Sara can't find their source, the feu follet might herald a holiday tragedy for the whole town.
Review:
If anything, I think this might be slightly better than the first in the series. The reader feels closer to the characters and Thaddeus isn't quite so mired in his guilt. It was fun to see the him and Sara in a more settled, domesticated period.
It is of course a novella, so the plot isn't overly involved and there is little build up to the climax that is settled with such ease as to be slightly disappointing. But it had a very sweet Christmas themed ending and is a wonderful little story to hold readers over until the next book comes out. Though, I think it would be most enjoyed if you've read Vespers, it does stand alone.
---
As a bonus, the authors happen to be running a giveaway for a $20 gift card. Why not check it out?
a Rafflecopter giveaway