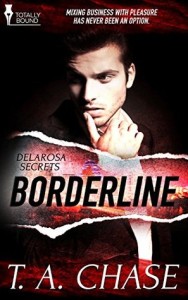 I bought a copy of Borderline, by T. A. Chase.
Description from Goodreads:
Surrounded by secrets, two men search for a serial killer, while trying to keep it from becoming personal.
Mac Guzman is a Texas Ranger and lead detective on a serial killer case rocking the city of Houston. He's willing to take help from anyone, especially when it comes in the form of the gorgeous FBI profiler, Tanner Wallace. Mixing business with pleasure has never been an option for Mac, but he just might change his mind and seduce Tanner into his bed. 
Tanner Wallace joined the Bureau and became a profiler to catch bad guys. Also, it might have a little to do with making up for the evil caused by his family's business. When he's called in to consult on a serial killer case in Houston, Tanner never expects to meet Mac. The handsome Texas Ranger brings to mind hot, sweaty nights wrapped in each other's arms, yet Tanner knows Mac would walk away if he ever found out who Tanner's family really is. 
With the threat of another murder hanging over their heads, Tanner and Mac will have to find a way to work past their differences before the killer strikes again.
Review:
Honestly, while this might be a fine book, I found myself bored. It somehow comes across as unengaging, despite involving an FBI profiler, a Texas Ranger and a Drug Kingpin. It almost seems like boredom shouldn't be possible, but apparently it is.
Everything about this book was just OK. The characters were OK. The plot was OK. The setting is OK. The sex was on the low side of OK. The mystery was OK. The writing was OK (though it could do with a little more editing).
Basically, while nothing was horrible, it wasn't great either. My biggest complaints were that the scenes from the killer's point of view were horribly cheesy and stiff. The sex scenes were of the uninspired, stick it in and be done kind, with little foreplay or buildup, and didn't inspire any of the emotions the book claimed were resulting from it. The fact that Mac would risk letting the perp walk on a technicality by not recusing himself from the investigation seemed unlikely, as did the fact that Tanner would risk so very much by telling Mac about his family. And the writing was occasionally stiff, especially in dialogue where names were used far too often to feel natural.
All in all, an OK read, but nothing I'm going to rave about.