I pre-orded a copy of Boyfriend Material, by Alexis Hall. (Though it must not have been through someone participating in the pre-order swag pack because I never got the activity book. No biggy, I'm not going to complain about not getting something for free, but sad face all the same.)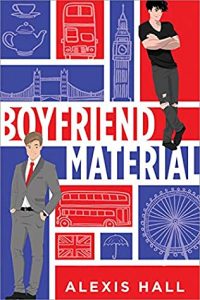 Description from Goodreads:
Wanted:
One (fake) boyfriend
Practically perfect in every way
Luc O'Donnell is tangentially–and reluctantly–famous. His rock star parents split when he was young, and the father he's never met spent the next twenty years cruising in and out of rehab. Now that his dad's making a comeback, Luc's back in the public eye, and one compromising photo is enough to ruin everything.
To clean up his image, Luc has to find a nice, normal relationship…and Oliver Blackwood is as nice and normal as they come. He's a barrister, an ethical vegetarian, and he's never inspired a moment of scandal in his life. In other words: perfect boyfriend material. Unfortunately apart from being gay, single, and really, really in need of a date for a big event, Luc and Oliver have nothing in common. So they strike a deal to be publicity-friendly (fake) boyfriends until the dust has settled. Then they can go their separate ways and pretend it never happened.
But the thing about fake-dating is that it can feel a lot like real-dating. And that's when you get used to someone. Start falling for them. Don't ever want to let them go.
Review:
Not my favorite Alexis Hall book, but still very sweet. I'll start with what I liked, which was everything except for two particular things. I loved Oliver with a passion that frightens me a little. I liked Lucien fine, but Oliver shook me. I liked the supportive groups of friends who tease and mock one another. I laughed a lot. And Hall writes queer books for queer readers. In a world full of MM romance written by women for women, that's a gift (and I say that as a woman).
The two things that held me back from giving this 5 stars were kind of amorphous. One, Hall loves himself some messy heroes. Which is fine. I like messy heroes too. But I have somewhat limited patience for them. The reason is that so often, in their mess-a-tude, they slip over into cruelty towards those who care for them and I sometimes have a hard time forgiving them for it. Luc did that here. I suppose toward the end Oliver did too. But it was Luc I had trouble forgiving because it felt like a pattern with him.
And two, while I laughed a lot, some of the characters played for humor went overboard. Most of the aristocratic characters are unbelievable buffoons. I would have liked this aspect a lot more if it had been pulled back a little bit and was a tad more believable.
All in all, I call this a success in the more general sense. I did enjoy the last half more than the first half, but on the whole, it's a winner for me. I'll close with a humous personal anecdote. For a while, in the beginning, I was driving myself absolutely crazy because I was certain that I remembered another of Hall's books with an Oliver in it and thought there might be a crossover. But I couldn't figure out which book. I suspected For Real, but it seemed unlikely that Oliver would be into BDSM. Finally, a friend (P.), who has all the book on kindle started simply opening them one by one and searching Oliver. I was just deciding that I'd made the whole thing up when she messaged me that there is in fact an Oliver in In Vino, but it's a completely different one, no crossover. What a relief to discover, at least, that my brain didn't just decide to make it up and taunt me with it.