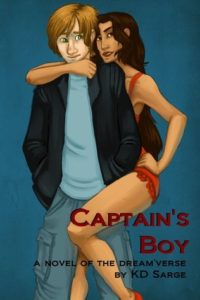 Way back in 2014, I bought a copy of K. D. Sarge's Captain's Boy.
Description from Goodreads:
Donte spent his teen years orphaned and homeless in a snowbound smuggler's port. Now he's a university student. The hot meals are nice and everything is warmer on his new planet, but life among people is so much more complicated. With only two friends—young Jordan whom Donte tutors and the fiery Selene who shares his table in the coffeehouse—Donte has things somewhat under control, but still he struggles with both unfriendly and friendly people, and he can't shake the feeling that he's getting it all wrong.
None of that matters after Jordan is stolen by slavers. Donte enlists Selene to help rescue the boy, and when Jordan is taken off-planet Donte and Selene follow. But determination and luck can only get them so far, and the closer the pair come to Jordan, the nearer they get to Donte's deepest fears, and a past he'd worked to hide from everyone—especially himself.
Donte knows all too well the horrors Jordan faces, but when his secrets are dragged into an open courtroom, will Donte find the strength to speak the truth and save the boy?
Review:
It's been a couple years since I read anything by Sarge, which is a shame because that meant my memory of the personality of The Dream's crew was a little hazy. But that wasn't enough to truly detract from my enjoyment of this story. It's basically a hero's quest in space. Donte makes an adorable hero and Selene is one heck of a side-kick/co-hero, because she is just so much more.
I love that Sarge lets female characters be strong and save the boys. I could grumble that she's guilty of consistently making women strong by making them act like men (easy to anger and fight) and ignoring other forms of female strength. But she did include a Mothering type here, so maybe that is changing. I'm a little less forgiving in this case over the extreme stereotypical representation of the over-sexualized, fiery Latina. While I really enjoyed her as a character, I was a little uncomfortable about how close she plays to type.
For the most part however, I simply enjoyed the ride and plan to read more books by Sarge.