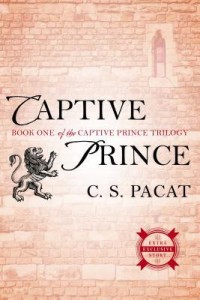 I borrowed C. S. Pacat's Captive Prince from my local library.
Description from Goodreads:
Damen is a warrior hero to his people, and the rightful heir to the throne of Akielos. But when his half brother seizes power, Damen is captured, stripped of his identity, and sent to serve the prince of an enemy nation as a pleasure slave.
Beautiful, manipulative, and deadly, his new master, Prince Laurent, epitomizes the worst of the court at Vere. But in the lethal political web of the Veretian court, nothing is as it seems, and when Damen finds himself caught up in a play for the throne, he must work together with Laurent to survive and save his country.
For Damen, there is just one rule: never, ever reveal his true identity. Because the one man Damen needs is the one man who has more reason to hate him than anyone else…
Review:
My Goodreads & Twitters feeds are FULL of this series, so of course I had to follow trend and pick it up. I was pleasantly surprised. I can't say I loved it, but I sure did like it. And that's an accomplishment because slave romances are not my thing. I find them uncomfortable and rarely erotic.
I liked the clash of cultures. I liked that there isn't any sort of insta-love. Heck, these two don't even like each-other. Slow burn is an understatement for the romantic element of this book. I liked the subtitles at play between the other characters. There are some truly heartbreaking moments here, but they aren't all overt and in your face. I appreciated that. It is a cliffhanger, which sucks, but I happily give this two thumbs up. I'll be looking for the sequels.