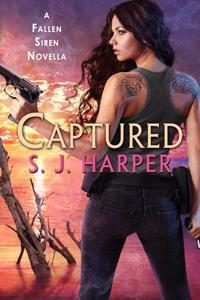 Captured, by S. J. Harper, is a perma-freebie on Amazon. That's where I picked my copy up.
Description from Goodreads:
Join FBI Agents Emma Monroe and Zack Armstrong. She's a Siren. He's a Werewolf. Their mission is redemption.
Emma Monroe is a Fallen Siren, cursed by the gods and banished to Earth for her failure to prevent the kidnapping of Persephone. She's had many names and many lives, but only one mission: redemption. Now she works for the FBI and is on temporary assignment in Charleston. Solving this next missing persons case could be the key to ending her ancient curse—unless the temptation that's her new partner gets in the way.
Zack Armstrong is a Werewolf. Tall, dark, and dangerous, he currently works for one of the bureau's elite Child Abduction Rapid Deployment teams. In many respects the man is every bit as mysterious as his secret and perilous past. But there are two things he's certain about, that he's going to get his man and his woman.
When Zack finds himself suddenly shy a partner and a third child goes missing in Charleston, Emma goes from consultant to CARD team member in the space of a few hours. The abductions of the first two boys ended in murder, an outcome that neither Zack nor Emma can abide. As they race against time to track down the kidnapper and rescue the latest victim, they find themselves fighting something just as treacherous—a growing attraction that can't be ignored or denied. 
Review:
Meh, this series looks like it might be all right, but I'm afraid this prequel was a poor showing. I liked the characters, which is why I'm willing to give the series the benefit of the doubt, but this book was dull. They spent the whole time driving around rehashing interviews (not even doing new ones, but re-interviewing people) and eating. There was no real tension and solutions either came too easily or off page. Plus, the paranormal aspects of the plot were underdeveloped to say the least (basically non-existent). This is basically a police procedural with less action and depth than your average Law & Order episode.