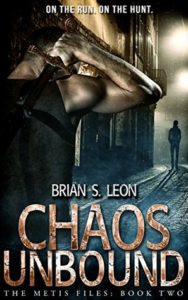 I received a copy of Chaos Unbound, by Brian S. Leon, from Netgalley.
Description from Goodreads:
The hunter becomes the hunted.
Framed for the murder of a high ranking member of the Unseelie Court of Fae, Steve Dore–also known as Diomedes, Guardian and protector of mankind–goes on the run. He's determined to uncover the real culprit and clear his name.
But the assassination may be the beginning of a more sinister plot that involves not just the Fae and Humankind, but all the races of the world. And what if the real assassin is a boogeyman even the Fae don't believe is real?
Review:
I'm finished, Lord above I'm finally done! My goodness, that book seemed to go on forever. It's not even a bad book. The writing is fine. It's funny and the author seems to understand military stuff well enough for it to read as realistic. But the book is so darned long and it's just running and fighting nonstop. I got so tired of the main character and his perfect friends killing things and being told about this gun or that tactical vest, or this military vehicle or that battle in 82BC or this mythical creature or that country and conflict. There was no time for any character development in and amongst all the running around, fighting and being attacked.
The blurb says it can be read as a standalone and it can. I haven't read book one and I followed this one just fine. But I definitely felt that I was missing something in having not read the preceding book. The characters refer to the events of book one and the events of this one tie into it. Plus, I kept thinking, as new people were being introduced at 80% into the book, that all the character development must have been left there, since it wasn't here.
The plot is pretty simple, a man is wrongly accused of a crime and must find the real culprit on order to clear his name. I'll say this book was ok, but it didn't need 350+ pages to tell the story. If you like non-stop action though, this might be a good book for you.