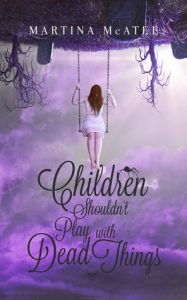 I'm embarrassed to say that I'm not sure where I got my copy of Martina McAtee's Children Shouldn't Play with Dead Things
. I don't think I bought it, so I either picked up as an Instafreebie or won it somewhere. If I won it from you or your blog, thank you.
Description from Goodreads:
17 year old Ember Denning has made an art of isolating herself. She prefers the dead. She spends her days skipping school in old cemeteries and her nights hiding from her alcoholic father at the funeral home where she works. When her own father dies, Ember learns her whole life is a lie. Standing in the cemetery that's been her sanctuary, she's threatened by the most beautiful boy she's ever seen and rescued by two people who claim to be her family. They say she's special, that she has a supernatural gift like them…they just don't know exactly what it is.
They take her to a small Florida town, where Ember's life takes a turn for the weird. She's living with her reaper cousins, an orphaned werewolf pack, a faery and a human genius. Ember's powers are growing stronger, morphing into something bigger than anything anybody anticipated. Ember has questions but nobody has answers. Nobody knows what she is. They only know her mysterious magical gift is trying to kill them and that beautiful dangerous boy from the cemetery may be the only thing standing between her and death.
As Ember's talents are revealed so are the secrets her father hid and those in power who would seek to destroy her. What's worse, saving Ember has put her cousins in danger and turned her friend's lives upside down. Ember must learn to embrace her magic or risk losing the family she's pieced together.
Review: 
I have a really odd relationship with YA books. 9 times out of 10, I read them and dislike the book. But there's that 10th one, the one I read that makes me wonder why I say I dislike the genre. (Then I read the next one, which I dislike, and the whole cycle starts again.) But that occasional YA book that I so enjoy is what keeps me coming back hoping the next one will be the good one, even if it's usually not.
Well, Children Shouldn't Play with Dead Things is the unicorn, the random and rare YA book that I truly enjoy. It was witty and funny and diverse. Not all the characters are white and there are both het and gay romances (even a poly among some side characters). It's suspenseful and irreverent, playing with and making fun of YA characters and tropes, even as it used some of them.
The book could use a tad more copy editing (though it's not too distracting, just the occasional double comma and such), it's a little too long and ends on a bit of a cliffhanger, or at least doesn't wrap up most of the threads. But it's definitely one I'd recommend picking up and I look forward to more.