I received an Audible code for a copy of Claiming Ana, by Brynna Curry.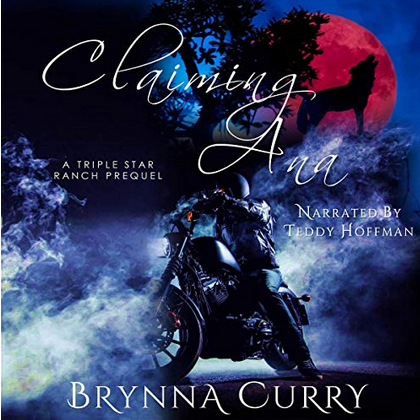 Description from Goodreads:
The child of a gypsy and fey, small-town veterinarian Dr. Anastasia Brannon has always hidden her magic for fear of ridicule. A red-hot encounter with the new PI in town makes their attraction impossible to deny. Throwing caution to the wind, she indulges her desires but keeps her secrets close.
A man with a shady past and secrets of his own, Howl Raven uses his feral talents and tracking skills to make a living, doing his best to lay low and hide the curse that haunts him every month. So far, so good…until an uncontrollable shift outside the full moon leaves him the victim of a werewolf hunter.
When she finds the enigmatic investigator wounded in the woods near her cabin during a storm, Ana provides medical care on instinct. She may be the only one who can banish the wolf from Howl's blood, but at what cost?
Review:
This was not great. It started out well enough by introducing several interesting characters that then play essentially no role in the book at all. (I assume they are only there because they'll have their own future books.) The love is instant, the plot is thin and the ending anti-climactic. Basically, had the author taken the time to develop this into a full-length novel (where she could have fleshed characters, plot, and the world out) it could have been pretty good. But she didn't. Instead, it's barely 75 pages and the reader feels all that it lacks.
On a side note, I really wish American authors would get on board with the fact that Gypsy is considered a slur and an insult and shouldn't be used casually. I realize that that message hasn't been as widely heard on this side of the Atlantic and it has developed a different meaning that many are reluctant to give up. But many who can claim the heritage have been fairly vocal that they wish it not to be used.
The narrator did a pretty good job, outside of the occasional tendency to get a little overly dramatic.