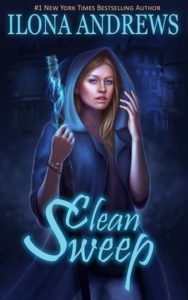 I bought a copy of Clean Sweep, by Ilona Andrews.
Description from Goodreads:
On the outside, Dina Demille is the epitome of normal. She runs a quaint Victorian Bed and Breakfast in a small Texas town, owns a Shih Tzu named Beast, and is a perfect neighbor, whose biggest problem should be what to serve her guests for breakfast. But Dina is…different: Her broom is a deadly weapon; her Inn is magic and thinks for itself. Meant to be a lodging for otherworldly visitors, the only permanent guest is a retired Galactic aristocrat who can't leave the grounds because she's responsible for the deaths of millions and someone might shoot her on sight. Under the circumstances, "normal" is a bit of a stretch for Dina.
And now, something with wicked claws and deepwater teeth has begun to hunt at night….Feeling responsible for her neighbors, Dina decides to get involved. Before long, she has to juggle dealing with the annoyingly attractive, ex-military, new neighbor, Sean Evans—an alpha-strain werewolf—and the equally arresting cosmic vampire soldier, Arland, while trying to keep her inn and its guests safe. But the enemy she's facing is unlike anything she's ever encountered before. It's smart, vicious, and lethal, and putting herself between this creature and her neighbors might just cost her everything.
Review:
I have a really odd relationship with Ilona Andrews books. I enjoy them, but I almost never rate one higher than 3 stars. I like them but just don't think they're all that great…but taken together, I always want another. They're like hard candies, not anything special but once you've had that first one you just want to keep popping them in your mouth until your tastebuds burn. That's me and Andrews. I don't think the books are great, but I always want another one. What am I supposed to do with that?
This is no exception. I thought it was a lot of fun, though bordering on utterly ridiculous and there were several too-coincidental-to-be-believed moments. But I liked all the characters; as always I appreciated the strong female and alpha male willing to let her lead, there are a ton of little easter eggs hidden in it and I'm already ready for the next one.