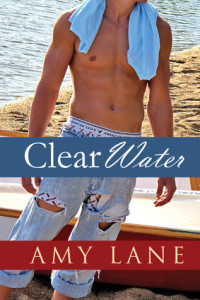 I bought a copy of Amy Lane's Clear Water.
Description from Goodreads:
Meet Patrick Cleary: party boy, loser, and spaz. Patrick's been trying desperately to transform himself, and the results have been so spectacular, they've almost killed him. Meet Wes "Whiskey" Keenan: he's a field biologist wondering if it's time to settle down. When the worst day of Patrick's life ends with Whiskey saving it, Patrick and Whiskey find themselves sharing company and an impossibly small berth on the world's tackiest houseboat.
Patrick needs to get his life together—and Whiskey wants to help—but Patrick is not entirely convinced it's doable. He's pretty sure he's a freak of nature. But Whiskey, who works with real freaks of nature, thinks all Patrick needs is a little help to see the absolute beauty inside his spastic self, and Whiskey is all about volunteering. Between anomalous frogs, a homicidal ex-boyfriend, and Patrick's own hangups, Whiskey's going to need all of his patience and Patrick's going to need to find the best of himself before these two men ever see clear water.
Review:
I think Amy Lane must be either an acquired taste or a basic matter of preference because, while I thought this book was funny and I liked the characters and even the plot, I thought the sweetness way over the top. I thought the gravitas and importance accorded sex over-played. I thought Patrick's verbal diarrhea unappealing and I found the fact that no one had ever treated him well, even if only to get what they want from him, unbelievable.
Most of all, I was disturbed by how much Whiskey's love was actually parenting. To the point that Patrick's actual parent was asking Whiskey (not Patrick) for another chance. I don't care how cute a character is, or how many tick's his mental health provide. I don't want to imagine him sleeping with a functional parent figure. Nope.
So, all in all, a middle of the road read for me. The writing was great. There was a lot of humor. The characters themselves were interesting and likable and they had their own voices. But I just thought the whole thing was taken a step too far to really enjoy wholly.