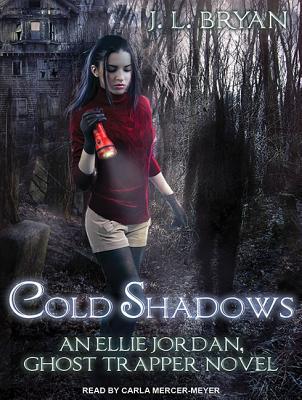 I borrowed an audio copy of J.L Bryan's Cold Shadows through Hoopla and my local library.
Description from Goodreads:
Paranormal investigator Ellie Jordan faces a difficult new case. Her new clients are a family haunted by multiple ghosts and a poltergeist that wrecks their home at night. Their seven-year-old son's invisible friends may not be imaginary at all but the restless spirits of dead children. To clear her clients' house of the dangerous entities, Ellie must unravel the mysterious deaths of another family who lived in the old mansion more than a hundred and sixty years ago, and she must do it before the ghosts can carry out their malevolent designs on her clients and their children.
Review:
Enjoyable enough. It'd been quite a long time since I read book one in this series. I honestly didn't remember much beyond the bare bones. But I was able to pick this one up without trouble. It suffers from a bit of the "we did this" and then "we did this" writing, Ellie seems to take beating after beating without effect, and honestly I couldn't figure out how the homeowner kept sleeping through all the racket she and the ghosts must have been making. But it was a fun little ghost mystery. 
I 100% approve of seeing a paraplegic, wheelchair using business owner. He may not play a big part in the book, page-wise, but he is an important character. (I'm sure he was in book one too, but as I'd forgotten, it got to be a new surprise again.) Similarly, there are characters who are "plump," but no issue is made of it.
All in all, Ellie Jordon is just as advertised, a ghost-hunter. And the book is thus exactly as you would expect, a story of hunting ghosts. There isn't yet a lot more depth to the plotting (though there seem to be some hints of a deeper mystery in the future). I'd be willing to read it…or listen. Carla Mercer-Meyer did a fine job with the narration of this one.