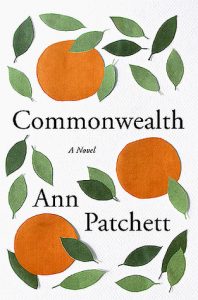 I somehow ended up with two copies of Ann Patchett's Commonwealth. I won one through Goodreads and the other just mysteriously showed up in the mail. Maybe the prize got posted twice, maybe I won a second somewhere else. I'm not actually certain. But obviously the most logical thing to do was then get the audio version from the library to listen to, which is what I did. Though to be honest, I don't think I would have it I hadn't also had the physical book on my shelf.
Description from Goodreads:
One Sunday afternoon in Southern California, Bert Cousins shows up at Franny Keating's christening party uninvited. Before evening falls, he has kissed Franny's mother, Beverly—thus setting in motion the dissolution of their marriages and the joining of two families.
Spanning five decades, Commonwealth explores how this chance encounter reverberates through the lives of the four parents and six children involved. Spending summers together in Virginia, the Keating and Cousins children forge a lasting bond that is based on a shared disillusionment with their parents and the strange and genuine affection that grows up between them.
When, in her twenties, Franny begins an affair with the legendary author Leon Posen and tells him about her family, the story of her siblings is no longer hers to control. Their childhood becomes the basis for his wildly successful book, ultimately forcing them to come to terms with their losses, their guilt, and the deeply loyal connection they feel for one another.
Review:
I'll start by saying that I don't gravitate toward popular literary fiction of this sort. I'm a dedicated sci-fi/fantasy reader. But every now and again I dip my toe into other waters and Commonwealth seemed a fair place to do so.
It took me a long time to settle into the book. For more than half of it I was afraid it wouldn't come together and would remain just a series of events in the lives of two random families. But with the introduction of Leo the stories finally wove together and in the end I liked it. It's definitely one of those books that I wasn't sure until the end though.
I didn't like many of the characters. I hated a lot of the decisions that they made. But life is messy and people make choices that have disastrous results all the time. This book centers them and moves forward from there.
Having said that, man can Patchett turn a phrase. The book really is beautifully written. It was a pleasure to listen to and Hope Davis did an excellent job bringing it to life. I can't say I'm running out to read the next such book. But the next time I feel up to a little literary fiction, maybe I'll pick up Bel Canto, which has been on my shelf for ages. (I have no idea how it got there.)