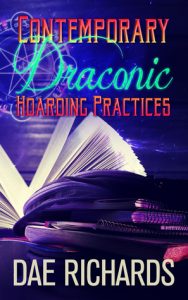 I received a copy of Contemporary Draconic Hoarding Practices, by Dae Richards, through Netgalley.
Description from Goodreads:
While researching his thesis, Clayton's work leads him to Syralis the wise, a dragon and professor at the university where he studies. Syralis' hoard contains original manuscripts which are invaluable to Clayton's research. Clayton soon finds himself one of the few students to ever study under Syralis, and during their lessons Clayton learns not only about medieval art, but his own history and his unusual magical sensitivity as well.
Clayton also finds himself enamored of Syralis, but when that attraction proves mutual, not everybody is pleased…
Review:
Not bad for a bit of fluff, but honestly that's all it is. I liked the characters, the world and the writing, but I would have appreciated more to the story than insta-lust, a small misunderstanding and an easy resolution. I don't regret reading it and would read more of Richards' work, but there was nothing here to impress me either. A nice, safe, middle of the road read.