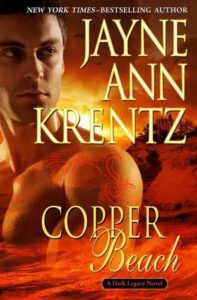 I borrowed Copper Beach (by Jayne Ann Krentz) from my local library.
Description from Goodreads:
Within the pages of very rare books some centuries old lie the secrets of the paranormal. Abby Radwell's unusual psychic talent has made her an expert in such volumes-and sometimes taken her into dangerous territory. After a deadly incident in the private library of an obsessive collector, Abby receives a blackmail threat, and rumors swirl that an old alchemical text known as The Key has reappeared on the black market.
Convinced that she needs an investigator who can also play bodyguard, she hires Sam Coppersmith, a specialist in paranormal crystals and amber-"hot rocks." Passion flares immediately between them, but neither entirely trusts the other. When it comes to dealing with a killer who has paranormal abilities, and a blackmailer who will stop at nothing to obtain an ancient alchemical code, no one is safe.
Review:
A decent story idea that was killed by being painfully formulaic and plagued by stiff uncomfortable writing. As an example, every chapter ended on a snippy, annoying dun-dun-dun one-line comment. The author might as well have just said, "Cut scene." There also didn't seem to be any contractions in the narrative.
I didn't feel the characters were well developed. I double checked twice that this really was a first book, and not a spin-off first book, because I felt I was missing something. The world wasn't particularly defined and several characters of importance just disappeared never to be heard from again.
This is the first Krentz book I've ever read, but if I had to take a stab in the dark at what was wrong with this book, I would bet this is like the 30th book she's written and she's now just plugging new names into old, well-used plot formulae. That's what this felt like anyhow.