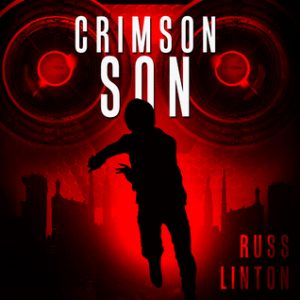 I won an Audible credit for Russ Linton's Crimson Son.
Description from Goodreads:
Nineteen-year-old Spencer Harrington is the son of the Crimson Mask, the world's most powerful superhero. Since witnessing his mother's abduction two years ago, he's been confined to his father's arctic bunker. When the "Icehole" comes under attack by a rampaging robot, Spencer is forced to launch into his father's dangerous world of weaponized human beings known as Augments.
With no powers of his own save a multi-tool, a quick wit and a boatload of emotional trauma, Spencer seeks to uncover his mother's fate and confront his absentee father. As he stumbles through a web of conspiracies and top secret facilities, he rallies a team of everyday people and cast-off Augments. But Spencer soon discovers that the Black Beetle isn't his only enemy, nor his worst.
Review:
Got a teen who loves comic book heroes? Love them yourself? This should be a winner. A couple F-bombs drop here and there, but it's otherwise pretty PG and little Spencer is pretty darned resourceful. Sure, he just happens to be a genius and just happens to have genius friends, but he's amusing and a hero in his own right.
The main character is a 19yo guy and though I didn't find this relentlessly male, like some super hero books, it does have a bit of male gaze going on. I gota little tired of having female bodies described to me, even during dramatic scenes. Meh.
I did think the ending was a little wimpy, since the reader doesn't see the action, only hears about it after the fact and is never wholly sure what exactly happened.
Mitchell Lucas did a great time with the narration, bring out Spencer's frustration and sarcasm. All in all, worth picking up if you're into this sort of thing.