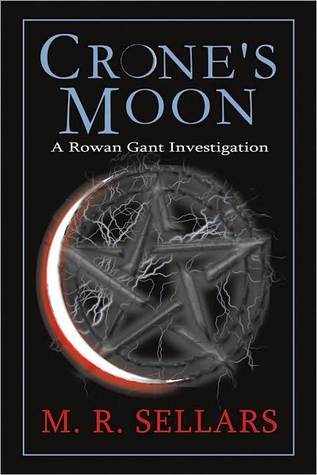 I purchased a signed copy of M.R. Sellars' Crone's Moon at a local used bookstore.
Description from Goodreads:
My name is Rowan Gant, and it has been far too many days since I have heard the voices inside my head… No, I'm not insane—at least I hope I'm not. Actually, what I am is a Witch with a rare talent, even for Witches. I can hear the voices of the dead—murder victims, to be specific. Personally, I consider it less a talent and more a curse, especially given all the grief it brings me. But the cops think otherwise, which is why I find myself consulting for them on a regular basis. In fact, the running joke is that they should just go ahead and give me a badge. I sometimes fear they might make good on that threat.
However, like I said, it has been a while since any dead people have so much as given me the time of day. I'll be honest, even though I never really wanted them to talk to me in the first place, now that they have stopped it seems almost like a piece of me is missing—a big piece.
As fate would have it, at the same time I've become persona non grata with the dead, it looks as if a serial killer is at work in the St. Louis area. The murders are pretty heinous, too, and that's just the sort of thing that usually turns the rumbling chatter of the victims into a deafening roar and a blinding migraine for yours truly…but not this time, and I have no Earthly—or even unearthly—idea why.
What I do know is the Major Case Squad could benefit from my help on this, but I've got nothing to give them. Nothing at all… Unfortunately, it seems that there is now someone else with my rare affliction instead of me.
I never thought I'd hear myself say this, but I want my curse back… 
Review: