It's mid-December and, like every December in recent memory, I have reached this point in the year and have yet to read a Q, U or X book for my author-alphabet-challenge. *Cue panic.* I did try and read Q book earlier, but ended up DNFing it for being horrible. So, I was officially without a Q book and the local library didn't have a single one that interested me on hand. (Interest me can be defined a in the sci-fi/fantasy section.) On a whim, I thought to check the audio books. I was literally walking by the shelf on my way to the door after discovering nothing in the fantasy section. Here, I came across a light historical paranormal title by Amanda Quick, Crystal Gardens. SOLD. I didn't even fully read the description before whisking it away to the check-out deck and home with me.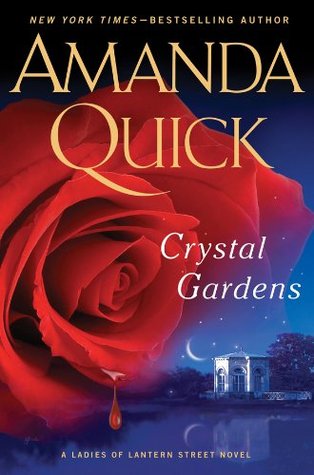 Description from Goodreads:
Evangeline Ames has rented a country cottage far from the London streets where she was recently attacked. Fascinated by the paranormal energy of nearby Crystal
Gardens, she finds pleasure in sneaking past the wall to explore the grounds. And when her life is threatened again, she instinctively goes to the gardens for safety.
Lucas Sebastian has never been one to ignore a lady in danger, even if she is trespassing on his property. Quickly disposing of her would-be assassin, he insists they keep the matter private. There are rumors enough already, about treasure buried under his garden, and occult botanical experiments performed by his uncle—who died of mysterious causes. With Evangeline's skill for detection, and Lucas's sense of the criminal mind, they soon discover that they have a common enemy. And as the energy emanating from Crystal Gardens intensifies, they realize that to survive they must unearth what has been buried for too long.
Review:
Considering I picked this book up with a very vague idea of what it might be about, I ended it happily enough. It's light and fluffy, and so long as I don't think too deeply about how rapidly people fell in love and made drastic life decisions, I have few complaints. I did find Evangeline's determination to not see that Lucas obviously intended to marry her for real annoying. And considering that one of the things I liked best about the book is that the couple spoke plainly to one another, avoiding any unnecessary, drama-inducing misunderstandings, this irked me. But for a quick, cotton candy read it was a success. As was Justine Eyre's performance.