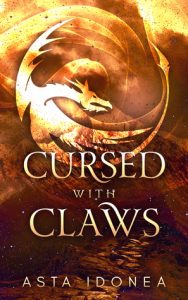 I received a copy of Asta Idonea's Cursed With Claws through Netgalley.
Description from Goodreads:
A dragon dwells atop the mountain that overlooks Ode's village. Every year the surrounding villages gather to make an offering to keep the beast at bay: chests of gold and a human sacrifice.
When the wise men choose his beloved sister, Malle, as the latest sacrifice, Ode immediately offers to take her place. But instead of a dragon on the mountain ledge, he meets a mysterious young man.
Review:
I've learned. It took a little while, but it's finally sunk in. Less Than Three Press publishes a certain sort of novella that I dislike. I always get caught by the blurb, but now I know not to be fooled. I read Alexandria Bellefleur's Frostbite
last year, which is also by LTTP and essentially the same plot as Cursed with Claws. I felt about it the same as I did this one. Meh. That's it.
Cursed beast in a mountain cave? Check. Ingenue young man encounters him? Check. Almost instant attraction, despite one party being deadly/monsterous (both dragons)? Check. Love developing in too short a time? Check. Happily ever after? Check. Everything is very shallow, very linear and very Mary Sue/Marty Stew. It's not that there's necessarily anything wrong with it. There's obviously a market, so those that enjoy it. I'm just not one of them. I was not impressed by Idonea's Cursed with Claws, but it was the book that finally taught me what to be on the lookout for, so I can avoid reading it or its ilk again.