I picked up an e-copy of Juliet Lyons' Dating the Undead when it was a freebie, way back in 2017.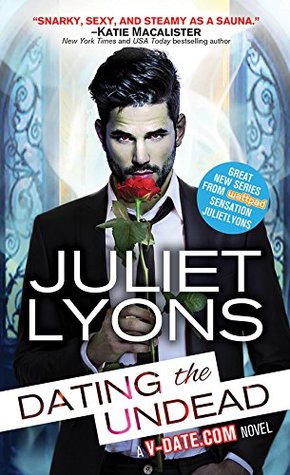 Description from Goodreads:
Silver Harris is done with clingy men—maybe men altogether. But when she shares a toe-curling kiss with a sexy Irish vampire on New Year's Eve, she decides maybe it's human men she's done with. Silver turns to the popular vampire dating site, V-Date. When the undead gentlemen come calling, soon she's in over her head. And her mysterious hottie is nowhere to be found…

Logan Byrne can't get that sassy redhead out of his head—or that kiss! When his boss assigns him to spy on V-Date members, he meets Silver again. Turns out, the police are recruiting humans to snitch on vampires through the dating site. As the snark and sparks fly, feelings between Silver and Logan grow deep. Logan isn't sure he can go through with his mission to make Silver forget everything she knows about vampires…and betray her.

But in the tight-knit London community of centuries-old vampires, history and grudges run deep and dating the undead can be risky business.
Review:
Meh, not bad but also not anything to write home about either. I truly did enjoy that Silver and Logan's relationship seemed to be based on joy and, though the sex scenes weren't graphic, it was apparent that the two of them were genuinely enjoying themselves. Sex doesn't always have to be some big, brooding, important thing. It can be laughing and teasing and light too. I appreciated that. I also appreciated that Logan wasn't some big, uber-important alpha vampire. He was as close to a normal guy as a vampire can be. I didn't dislike Silver. But it's hard to get too excited about a girl who says about herself that her only hobbies are going to parties and shopping. I was a little limp about her. Plus, she didn't have a single female friend other than a stepsister she could tolerate and an elderly neighbor. Every other female in the book is either catty or a villain. (Why do authors do this?) All in all, I'm not sorry to have read it and I would read another in the series. But I'm not rushing out to buy them all either.