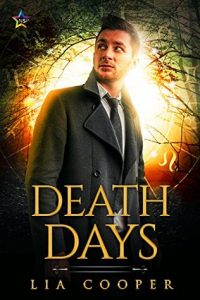 I received a copy of Lia Cooper's Death Days from Netgalley.
Description from Goodreads:
By day, Professor Nicholas Littman works as an itinerant professor at a small college in the Pacific Northwest. He teaches seminars on mythology and the intersections of folklore and magic in the ancient world. By night, he's the local necromancer, a rare magical talent that has left him alienated from other practitioners.
All Nick wants from life is to be left alone to run his magical experiments and teach kids the historical context of magic without anyone being the wiser. Unfortunately, his family is sworn to sit on the council of the Order of the Green Book—a group of magicians dating back to the Crusades—and they aren't willing to take Nick's no for an answer.
As though that wasn't bad enough, a coven of Night Women has arrived in town, warning Nick that there are wolves at his door he had better take care of. But what can one necromancer do when every natural and supernatural card seems stacked against him?
Review:
I was totally confused by this book. I went in thinking it would be m/m Paranormal Romance, because that's what I've read from Lia Cooper in the past and it's a lot of what Nine Star Press publishes, but it's not. The main character is gay and there is a character that might be a romantic partner in some future book (if one is coming), but there's no romance here. So, do yourself a favor and go in expecting Urban Fantasy and you'll be a lot happier with the result.
Of course there's nothing really wrong with not being the genre I expected. That's not a sign of poor quality. Poor marketing maybe, but not quality. But I wasn't all together thrilled with the book in general. If anything, it felt like a 250 page prequel to a larger novel. I finished the book feeling very much like, "Well, we've got the background sorted. Now the story can start."
None of the various threads wrapped up. I mean NONE. The big mystery is set up and never even addressed. Nick spends the whole book avoiding being roped into the council, but we don't know what happens with that. There's the set up of a maybe romance. But it's not delved into at all. Nothing ends…just like in all those silly 'prequel novellas' that were popular last year. And do you remember how I feel about them?
I found the mechanical writing fine and the banter between people was good. But the story is slow and I found the narrative a bit flat. Things happen, but I never felt much invested in the outcomes. Nick seemed equally concerned that he submit end of terms grades on time as with the 'hole in the world,' new werewolf, and creeping vampires. And if he couldn't hustle up any emotional reaction, neither could I.
All in all, I didn't love it, but I didn't hate it either. I'd read the next to try and see the outcome. Now, I gave this a 3-star rating on Goodreads, but if it turns out that this is meant as a stand-alone I'll going coming back and rerating it a one star. There's no way this is complete.