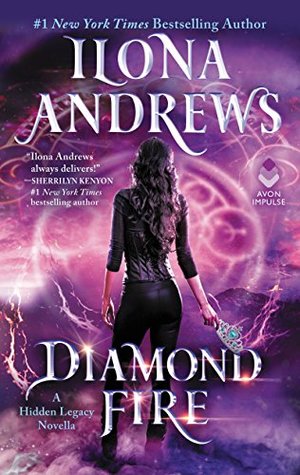 I pre-ordered a paperback copy of Ilona Andrews' Diamond Fire and then let the little sliver of a book sit on my shelf for months.
Description from Goodreads:
Catalina Baylor is looking forward to wearing her maid of honor dress and watching her older sister walk down the aisle. Then the wedding planner gets escorted off the premises, the bride's priceless tiara disappears, and Rogan's extensive family overruns his mother's home. Someone is cheating, someone is lying, and someone is plotting murder.
To make this wedding happen, Catalina will have to do the thing she fears most: use her magic. But she's a Baylor and there's nothing she wouldn't do for her sister's happiness. Nevada will have her fairy tale wedding, even if Catalina has to tear the mansion apart brick by brick to get it done. 
Review:
You know, I still swear this series has the worst covers ever. But I do still quite enjoy the stories themselves. I thought this was a pleasant little bonus to the series as a whole. Getting to know Nevada's sisters was fun and seeing Rogan and Nevada from someone else's perspective was too. It is a novella and reads as such. It's no where near as developed as a whole novel. All in all, I look forward to the…well, the spin-offs, since I suppose Rogan and Nevada's arc is finished. (Though there is a Hidden Legacy 4 coming out in August 2019.)