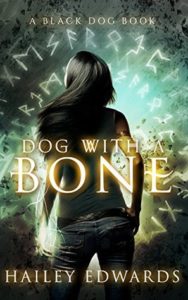 I picked up a copy of Dog With a Bone, by Hailey Edwards, through Instafreebie.
Description from Goodreads
Half-bloods with Thierry's skill set are given two options. They can join the conclave's marshal program, or they can pack their bags. Turn down the job offer, and you've just shredded your residency pass for the mortal realm and booked yourself a one-way ticket to Faerie.
Texas is the only home Thierry has ever known, and she's not going anywhere. Even if it means following in her notorious father's footsteps as a peacekeeper. But pinning on the badge opens her eyes to the fact sometimes fae need protection too, and that sometimes humans are the real monsters.
Review:
Another reviewer started their review this was: "Dog with a Bone introduces a young Thierry Thackaray who has just become a marshal – a fae cop. " I read that and thought, Um, no it really doesn't. The book doesn't introduce anyone or anything. It just drops you right in the middle a story and leaves you there to flounder.
I started this book and then checked again and again to be sure it REALLY is book one, because I had no idea who or what anyone was. I could figure out what was happening fairly easily. But the characters, their species specifications? Nope, that was a loss, especially when there was supposed to be a meaningful relationship between two of them and we're given nothing about it. I felt no connection with these characters. I wasn't given the opportunity to develop one.
This literally feels like the latter half of a book. LITERALLY. Like I said, I kept looking for a prequel or SOMETHING to add to it. Alas, nothing seems to exist. There are several series set in this world. Maybe this is a spin off of one of them and the beginning of Thierry and Shaw's story is in one of them. But it sure isn't here.
I technically read Dog With a Bone book in the Black Dog Series Bundle, books 1-3. But I won't be bothering with the next. The writing, what there is of it, is engaging. I liked what I did see of the characters and world. But I LITERALLY felt like this book was missing half its content.