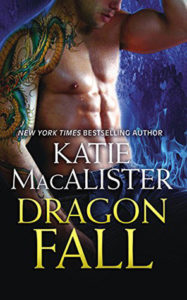 I borrowed a copy of Katie MacAlister's Dragon Fall from my local library.
Description from Goodreads:
YOU FLIRT WITH FIRE…
For Aoife Dakar, seeing is believing—and she's seen some extraordinary things. It's too bad no one else believes that she witnessed a supernatural murder at an outdoor fair. Returning to the scene for proof, Aoife encounters a wise-cracking demon dog—and a gloriously naked man who can shift into a dragon and kiss like a god. Now thrust into a fantastical world that's both exhilarating and terrifying, Aoife is about to learn just how hot a dragon's fire burns.
WHEN YOU DATE A DRAGON
Kostya has no time for a human woman with endless questions, no matter how gorgeous or tempting she is. He must break the curse that has splintered the dragon clans before more of his kind die. But his powerful attraction to Aoife runs much deeper than the physical—and there may be more to her than even his sharp dragon eyes can see. To survive the coming battle for the fate of his race, he needs a mate of true heart and soul . . 
Review:
Well, that was seriously disappointing; I mean basically complete tripe. There where aspects I appreciated, the POC main character that's in her mid thirties should be a win. But instead she acted and spoke like a twelve-year-old. Seriously, using words/phrases like owie and four million variations of suffering succotash in otherwise terse situations! It was beyond unbearable. The dialogue was atrocious, there was no character development (and I didn't even like any of them) and it ended without wrapping up.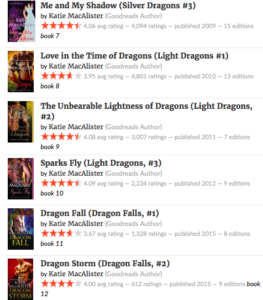 Additionally, and this is twice in two days I've had to have this rant, this book is labeled #1, but it's actually first in a spin-off of another series, which it is #11 in. I would NEVER have picked up an 11th book in a series I haven't read the first ten of. This pisses me off completely. Because I have come to the conclusion that authors/publishers do it to draw in readers just like me. 'Won't pick up a number 11? How about a first if I hide the fact that it's actually number 11?' While this author did a descent job filling in missing information by making the heroine clueless and ask a lot of questions, I very much felt my lack of reading the previous books and didn't much enjoy it.