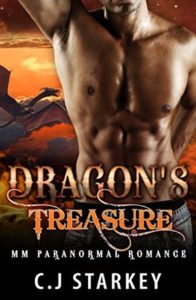 I picked up a copy of Dragon's Treasure (by C. J. Starkey) when it was free on Amazon.
Description from Goodreads:
Sean has a type, he's not ashamed to admit, and Jack fits the bill to a tee.  
Sean 
My life was a blur of work, sleep and the occasional night out. Despite my friends' best efforts to get me laid on a regular basis I just couldn't make anything stick. 
It didn't seem like Jack was going to be any different. I made a complete and utter fool of myself more than once and then our first intimate encounter was a threesome with a werewolf shifter. Finding out he was a dragon shifter should have been more surprising than it was but after that first time, I think I knew I wanted him for keeps. 
I should have known our relationship would happen on it's own timeline, completely out of our control. 
Jack 
Sean was fascinating from the very beginning. He was a contradiction in every sense of the word – I never knew whether to be blown away by his surprising intelligence or by how deep he could stick his foot in his mouth. 
I'd had too many flings go sour to be willing to risk it, even in spite of the animal attraction I felt towards him. An old friend not-so-gently encouraged me into it and well, I always did tend to plunge headfirst into things. 
Why should this be any different? 
A Dragon's Treasure is a standalone MM story, with steamy love scenes, Mpreg and a HEA ending! 
Review:
#DNF at 19%, which is the end of A Dragon's Treasure. The rest being "bonus stories." Um, No. I'm pretty sure this is just a collection of short stories, despite what the cover and title say. What's more, I'm pretty sure this is one of those authors you hear about who is cranking out misleading books for the buck they might make, not for the art or love of writing. Starkey just made my Do Not Buy List. I don't usually review books I don't finish, but when I think readers are being scammed an author I feel obligated to highlight it.
To discuss the one short story I read, that was sold as a 200+ page book, it was BAD. It read like a court report. I could almost imagine someone standing there saying, "Just the facts, Ma'am." There was one rushed sex scene and then a whole rushed romance/pregnancy. No development. No world-building. No indentations or hard returns between paragraphs. No consistency in tense. Reading this was in no way an enjoyable experience, even without factoring in the feeling of being manipulated and tricked by it's inaccurate presentation.
I'm starting to feel like you have to swim with sharks to trust a book purchase these days.