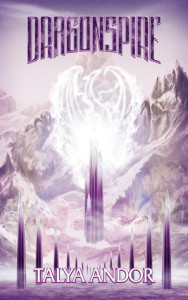 I received a copy of Talya Andor's Dragonspire from Netgalley.
Description from Goodreads:
In the wake of his grandfather's death and the unexpected contents of his will, Gideon abandons his career, cuts ties with his family, and heads overseas to figure out a life that has never made him happy. He settles for a time in Myanmar, content to roam the country taking pictures, carefully avoiding the dangerous local politics.
When he ventures into the jungle, he expects wildlife and possibly men with guns if he's unlucky. Instead, he meets a princess who sweeps him off to another world, claiming that Gideon is the only one who can help her slay the terrible black dragon threatening her people—and if he ever wants to see home again, he has no choice.
Review:
I think OK is the best I can give Dragonspire, and even that is only for beyond the 30% mark. The first third is so rough I almost just gave up on the book. But I stuck with it and it did smooth out eventually.
I did enjoy the main characters and the general shape of the plot. But unfortunately I thought the whole thing was dragged out far too long, with too many conveniently unspoken things leading to misunderstandings. Plus, you're never given a satisfying explanation on Gideon's grandfather's actions that spurred him into the events of the book.
I also had an issue with the diversity in the book. Hang with me a minute, because I can't believe I'm saying this either. It's the sort of thing that normally makes me cheer. I want everyone to be able to see themselves represented in their literature. But at one point, one character is introduced to ten or so dragons and their mates and they are of every conceivable pairing. There are M/Ms, F/Fs, M/Fs, gender fluids partners, non-binaries partners, polys, etc. And while a very very large part of me was like, 'Yeah, look at that. I love seeing such representation' another (admittedly smaller, but still present) part of me was like, 'Oh look, the author tossed in some obligatory, I'm-so-liberal diversity.' The characters (and their sexuality) played no significant part in the book and the pages and pages and pages of description were distracting, but worse, felt like hollow tokenism. Maybe for some the former will outweigh the latter, but it made me uncomfortable.
Anyhow, after the first third, it's a fluffy, feel-good book that, if you like that sort of thing, is worth picking up, despite my complaints.