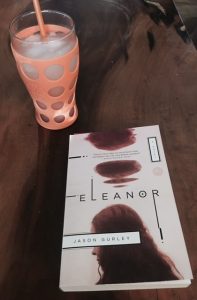 I received a copy of Eleanor, by Jason Gurley from Blogging For Books.
Description from Goodreads:
When a terrible accident claims the life of Eleanor's twin, her family is left in tatters, and her reality begins to unravel, dropping her in and out of unfamiliar worlds. When she returns to her own time and place, hours and days have flown by without her. One fateful day, Eleanor leaps from a cliff…and vanishes. In a strange in-between place, she meets a mysterious stranger who understands the weight of her family history: Eleanor's twin wasn't the only tragic loss. And unless Eleanor can master her strange new abilities, she may not be the last.
Review:
Oh, my God, I finally finished it! It's not that it's in any way a bad book. The prose is beautiful and the subject matter is tragic but thoughtful. It's just that it never grabbed me. I picked it up, put it down, picked it up, and put it down a dozen times, reading whole other books between chapters. It does eventually all come together, but I felt like it went on too long before it happened, so a lot of time is spent reading bits that feel disparate. Then it had a vague ending.
I think there are people who will love this book and I think it'll make a great book club book. (My version even had a reader's guide in it, I presume for book clubs.) But on my own, I liked but didn't love it.