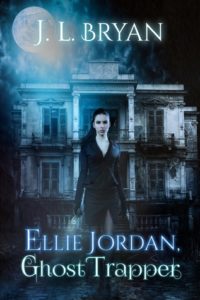 I grabbed an e-copy of Ellie Jordan, Ghost Trapper, by J. L. Bryan, when it was free on Amazon.
Description from Goodreads:
Ellie Jordan's job is to catch and remove unwanted ghosts. Part detective, part paranormal exterminator, Ellie operates out of Savannah, Georgia, the most haunted city in the United States. 
When a family contacts her to deal with a disturbing presence in the old mansion they've recently purchased, Ellie first believes it to be a typical, by-the-book specter, a residual haunting by a restless spirit. Instead, she finds herself confronting an evil older and more powerful than she'd ever expected, rooted in the house's long and sordid history of luxury, sin, and murder. The dangerous entity seems particularly interested in her clients' ten-year-old daughter. 
Soon her own life is in danger, and Ellie must find a way to exorcise the darkness of the house before it can kill her, her clients, or their frightened young child. 
Review:
I was really pleasantly surprised by this one. The narrative style engaged me. The ghost hunting characters were fleshed out enough to be relatable, though admittedly not particularly deep or notable. The mystery, while not hard to figure out, kept me interested and it was creepy as all get-out.
I did find it a little predictable, there was a bit of repetition and the hauntees felt a tad shallow. But for the most part, it was a satisfying read. It's hard to ask for more than that. In terms of pure entertainment, it's a win.