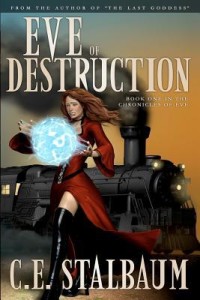 I picked up C. E. Stalbaum's Eve of Destruction from the Amazon free list in Oct. of 2012. Just got around to reading it.
Description from Goodreads:
The reign of magic is broken. A technological revolution sweeps across the land, and the once invincible Magi caste has been usurped by factory owners and railroad tycoons. Industry spreads like wildfire across the country, and the source of magic recedes in its wake.
Now, on the eve of a devastating war between the Magi and the Industrialists, the only hope for the future rests in a gifted but impetuous young sorceress and her motley band of unlikely allies. Together they must survive the war raging around them long enough to unravel a twisted political conspiracy before magic is extinguished forever.
Review:
This was passable fantasy. I believe it must be set in the same world as Stalbaum's The Last Goddess, which I really liked. However, I didn't enjoy this nearly as much.
It had a much strong YA feel and I'm not currently a fan on YA literature. (I guess I just can't relate to 19-year-olds anymore.) I didn't particularly engage with Eve. In fact, I had a much stronger feel for the supporting characters. Everything felt scripted (as it was meant to, to a certain degree), I disliked her ability to use magic without knowing how, and so very much of the story was contingent on event that happened 30+ years ago that I felt I must have missed a first book somewhere.
Stalbaum's writing is strong here, the dialogue feels natural and I never noticed any grievous editing mishaps. So, for the right reader the book might be a win. For me it wasn't a fail, but maybe just a pass.
On a side note, I wasn't aware when I picked the book up that it is the first in a series. But it is and it ends in a very open manner. I was less than pleased with this discovery.