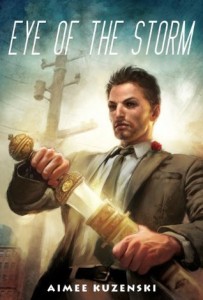 I received a copy of Aimee Kuzenki's Eye of the Storm from NetGalley. Reading it now was a bit of a cheat, since I'm only supposed to be reading books by authors I know this month. But, I gave in to reading it in the end.
Description from Goodreads:
The old gods aren't gone. Whether you know it or not, they're closer than a breath upon your cheek.
Alexander Sekhmet keeps to himself, far from the Machiavellian games played by his Family, and as a result he's led a quiet ordered life. Until now.
When his legendary temper is exploited by an ancient enemy, tricking him into destroying his human identity, he takes drastic steps to protect his empire. He possesses the body of Camilla Sykes, a West Point lieutenant, and takes her identity, memories…and soul with him.
Ian Dorsey, Classics PhD candidate, has lost his job and his father in one fiery afternoon, and appears to be losing his mind in the bargain. Why else is he hearing voices that are telling him to kill his father's client? Or are the voices coming from somewhere darker?
When gods and mortals meet, the Apocalypse follows.
Review:
This is Urban Fantasy at its best…and it really is Urban Fantasy. There is no sex and only the merest hint of a possible future (F/F) romance, so not to be confused with PNR.
Kusenski does a fabulous job of creating atmosphere and presenting the immortal gods as both all-powerful and oddly fragile. I really adored this about War. Conversely, there was nothing fragile about Camilla. But I loved her just as much. She truly was the strong female character I'm always looking for and finding myself frustrated in her absence.
There is also some marvellous dialogue. A lot of it is internal, either with oneself or with a subsumed personality, but it's largely followable. There were numerous scenes in which characters were simultaneously holding conversations and remembering past events or conversations and sometimes it was hard to tell which passages were meant to be remembrances and which were meant to be realtime. But other than this, I thought dialogue was sharp and natural sounding. It really was a pleasure to read.
My only real complaints are that the ending felt rushed. I didn't quite follow War's leap of logic that brought about the conclusion. It felt very abrupt. (Though, to be fair, War was presented as a man who regularly acts before he thinks things through.) I also thought that some of the side characters, like Ian or Olivia, who played fairly important roles, felt hollow. IMO, they weren't fleshed out enough for their significance.
All in all, I really enjoyed it and will be looking for more of Ms. Kuzenski's writing.