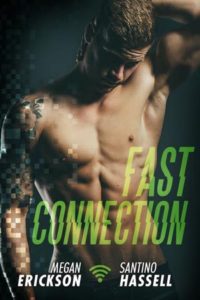 I won a copy of Fast Connection, by Megan Erickson and Santino Hassell, from The Book Queen's Palace. I reviewed Strong Signal, the first book in the series, here.
Description from Goodreads:
After a decade of serving in the Army, everyone still expects me to be Dominic 'Nicky' Costigan–the skirt-chasing player. They don't know I've been spending my days trying to figure out my post-military life. Including how to pick up guys.
When I meet Luke on a hookup app, he makes it clear it's for one-night only. That's fine with me, because I'm down to see what this silver fox can do. But after I arrive at his doorstep, it doesn't take long to realize we have serious chemistry, and we end up meeting again.
He's got more walls around his heart than a military base, but I think he's as addicted to me as I am to him. He can't resist me for long. I mean, who can? Except Luke's rules exist for a reason, and when I test his limits, things get complicated. Maybe too complicated.
Review:
I generally enjoyed this, but I have a surprising number of negative comments about it. How does that happen?
Dominic's personality seemed to have shifted a bit between his appearance in the last book, Strong Signal and now. The inconsistency bothered me at first. However, I did really like him as a character. In fact, I liked all the characters. I though Luke was a good toppy-top grump-face, the teenagers believable, and the ex real. I very much appreciated seeing a failed relationship that remained cordial and a female past love-interest who wasn't a harpy.
I did think that Dominic's parents were a little over the top, especially since there seemed to be a miraculous change in disposition that led to the happy ending. Much like I thought the change in Luke in the beginning, allowed the relationship to progress. These changes were necessary, but I thought a little unfounded.
The sex was hot. There too I have a "but," though. I thought there was too much of it for the length of the book. It cluttered the plot up a bit. I did appreciate that the plot dealt with real life issues like family stressors, veterans' transitions, split families and relationships, etc.
All in all, I love Hassell and Erickson as a writing team and I liked these characters and the plot. But I thought the book felt rushed and the online sections of it, as well as the discussion of the importance of it, felt like repeats from book one. Though, to be fair this idea that relationships that develop over social media are real and important to people, but often dismissed, is the theme of the series. Either way, I'll keep picking them up as long as E & H keep writing them. They don't have to be perfect for me to want more.