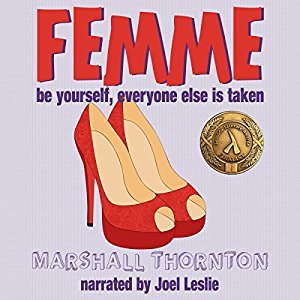 I won an audio copy of Femme, by Marshall Thornton.
Description from Goodreads:
Queeny cocktail waiter, Lionel, wakes up to find himself in bed with Dog, a straight-acting softball player and the two embark on a rocky road to romance. A journey that requires coming out of the closet, going into the closet, a pair of red high heels, many pairs of red high heels, a failed intervention, a couple of aborted dates, and homemade pom-poms. Mostly, Lionel and Dog learn what it means to be a man. 
Review:
Generally enjoyable. For the most part I very much liked this. I liked that it took a look at stereotypes within the gay community, by the gay community. I liked that all sorts of identities were legitimized. And I thought the whole thing was warm and fuzzy and funny.But there were just a few too many moments in which I was rolling along, pleasantly enjoying the narrative only to have some needle-screech moment in which something that made me twitch happened.
I am apparently a lot less forgiving than Leon, because I would not have forgiven Doug for denying me so many times. Nope. Which means I had a hard time rolling with the happy ending. Further, I didn't think some of the characters whose actions needed to be addressed as problematic were actually challenged. [spoiler] The sister who continued to set her brother up on blind dates (including with his ex-fiancé) despite being asked not to, who then outed him to his homophobic parents, AND THEN brought said homophobic parents to a place she knew he'd be on a date with a man, for example. Yes, she was a perfect example of an ally who is more concerned with how cool it is to be an ally than actual ally-ship, but not once was she reprimanded for her horrendously distressing behaviors, nor were the rest of the family.
Lastly, the book deals with stereotypes and I'm glad it did. I liked that. But I also found the characters, Lionel especially, too pat and stereotypical in some ways that weren't being explored. Just because he's femme, for example, doesn't mean he also has to be flighty, unable to think before he speaks, consider the consequences to his actions, or perform a single domestic chore (like cook). This is not just the 'femme persona,' this is a stereotypical representation of the femme persona as it is often stereotyped. And part of the point of the book is that we are more than our stereotypes, a theme I thought would be a lot more effective if the characters actually went past their own stereotypes.
All in all however, I liked the book. I liked the theme. I liked the writing. I thought Joel Leslie did a great job with the narration. I'd happily read another book by this author.