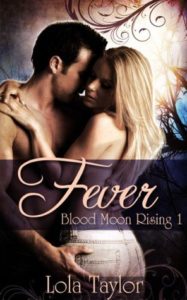 Fever: Blood Moon Rising, by Lola Taylor, is a perma-freebie on Amazon. That's where I picked my copy up. I read it as the 6th book in my Blood Mood Reading Challenge.
Description from Goodreads:
When the Blood Moon rises, the wolves come out to play… and find their mates. 
Danica has about given up on love. In a last-ditch attempt at finding "the one," she agrees to a blind date through an online dating service. But instead of finding roses and romance, she finds someone intent on killing her. That is, until the mysterious, brooding Gage shows up to save her…. 
Gage is running out of time to find a mate. If the Blood Moon sets before he can find her, he'll lose the rank of packmaster – and the peace within the pack – he's worked so hard to obtain. When he saves a luscious blonde in the parking lot, he has no idea she is his mate – until he Marks her with his touch. 
Determined to keep her safe at any cost, Gage whisks Danica away into a hidden world full of lust, unlikely love, and treachery. Someone's put a hit on his mate, and he's hell-bent on finding out who, all while the Blood Moon looms closer, threatening to destroy his chances at true love forever. That is, if something – or someone – doesn't kill the woman he's falling for first.
Review:
*Sigh* It wasn't Baaad. It just wasn't very good either. Nothing and no-one had any depth or development. It was schmaltzy to the nth degree. The same gimmick (like her refusal to believe she wasn't dreaming or the interrupted sex) was played over and over. Dangers popped up and disappeared without any true tension. In fact, nothing in the whole book had any kind of edge to it. Gage was the most beta alpha I've ever read (he did not inspire confidence) and Danica was just annoying and useless. This is basically just a collection of various werewolf tropes strung together with nothing to bolster it up or tie it together. I did like the brother Nik and some of the dialogue is funny, but all in all, not a real winner for me.