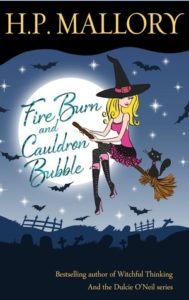 H. P. Mallory's Fire Burn and Cauldron Bubble is a perma-freebie on Amazon (and probably other sites). I've had it on my TBR list for years. In fact, I thought I'd read it already. When I picked it up this afternoon, I'd only intended to read enough to remind myself which book it was, only to discover that I couldn't remember because I hadn't actually read it.
Description from Goodreads:
Life isn't bad for psychic Jolie Wilkins. True, she doesn't have a love life to speak of, but she has a cute house in the suburbs of Los Angeles, a cat and a quirky best friend.
Enter Rand Balfour, a sinfully attractive warlock who insists she's a witch and who just might turn her life upside down. Rand hires her to help him solve a mystery regarding the death of his client who also happens to be a ghost. Jolie not only uncovers the cause of the ghost's demise but, in the process, she brings him back to life!
Word of Jolie's incredible ability to bring back the dead spreads like wildfire, putting her at the top of the underworld's most wanted list. Consequently, she finds herself at the center of a custody battle between a villainous witch, a dangerous but oh-so-sexy vampire, and her warlock boss, Rand.
Review:
Disappointing. That's the most concise review I could write. This is one of those standard 'woman has magical powers that she's lived 28 years without noticing, until a man comes along and tells her about them' books. Meanwhile, he controls every aspect of her life while refusing to give her the information she needs to stay safe and chastising her for endangering herself in ways she wasn't told would be dangerous.
And of course these magical powers she's gone 28 years without noticing are ultra powerful and she can defeat well trained, long experienced people without even knowing how. And if that wasn't enough, she's attracted to every man she meets and they all just have to have her too. But of course, she's never noticed she's pretty before.
What's worse, this is a fairly long book, but almost nothing of significant note happens. Then, it ends on a cliffhanger. The whole thing bounces between rushed scenes and long stretches of 'training' or descriptions of what people are wearing.
Nope. I wasn't impressed with this one.