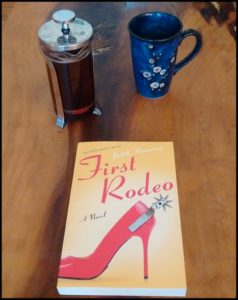 I won a copy of Judy Hennessey's First Rodeo through Goodreads. It was an extra surprise as Hennessey is a local-to-me author and half of it is set in Saint Louis, where I live.
Description from Goodreads:
Kate, an attractive, thirty-something, workaholic, single mother, is in the business of pleasing others. At the top of her yes list is her sometimes surly and controlling boss: her father. But when a crisis at work spurs Kate to examine her life, she surprises everyone by taking her young son and heading where few high heels have ever gone: Wyoming, home to more cows than humans. There, at the Prickly Pair Ranch, she meets a young, sexy, bull rider, who s lived a lifetime in just over two decades. He s full of big dreams of training horses, and his passion fuels Kate s dormant dreams of becoming an artist, and sparks fly and once again, Kate shocks everyone, even herself, and jumps on for the romantic ride of her life.
Review:
Yeah….NO!
First and foremost, this is not, I repeat, NOT a romance. And that is fine of course, but I really feel like it is billed as one. So, it not being one felt like a bait and switch. Moving on.
I did not understand the choices Kate made in this book, starting with the insta-love between her and a man 13 years younger than her. The age gap didn't bother me, but them having nothing in common and the instant relationship sure did. What was all that love based on? I saw nothing. Then, just about every decision she made baffled me. I could not relate.
In the end, I didn't feel like I got any significant closure on the Jake front. He's basically Brad Pit's character from Thelma & Louise, except Kate tried to keep him. The events toward the end of the book (avoiding a spoiler here) came about as quickly as their relationship started. There was no buildup or gradual change.
I think what bothered me so much about it was that for most of the book you have dual POVs, making this feel like the story of them. Then when that suddenly changes and you realize it's only supposed to be her story it feels like a bait and switch, just like the blurb. He is relegated to unimportant, but you've just spend significant time in his head. So, it's hard to just dismiss him as the plot device he was.
I appreciate the theme of making yourself happy, instead of depending on another for it and some of the mysticism was interesting, though I didn't really think it fit the rest of the story. All in all, I suppose there will be some who really like this. I'm not one of them. It was an ok book, but not my cup of tea.
As an aside, there was something odd going on with the page numbering. A whole chunk (~30 pages) was out of order. They were all there, just muddled up. I won the book on GR, so maybe it's an ARC (though it's not labeled as one).
---
What I'm drinking: It's National Coffee Day. Yeah, that's a real think; so coffee.