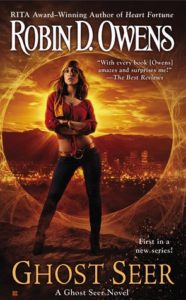 I borrowed a copy of Robin D. Owens' novel Ghost Seer from my local library.
Description from Goodreads:
When her eccentric aunt passes away, no-nonsense accountant Clare Cermac inherits more than just a small fortune. She receives the gift of communicating with ghosts. While Clare may not believe in spirits, it's hard to overlook the shadowy talking dog appearing on her bed or spectral cowboys tipping their hats to her in the streets of Denver. And when she locks eyes with sexy—and living—Zach Slade, there's certainly no ignoring him either.
 
A former deputy sheriff, Zach is leaving a painful past behind in Montana for a new life in Denver as a private investigator, a job that has him crossing paths with beautiful Clare. Not that she minds. After the restless ghost of a Wild West gunman demands her assistance, Clare finds herself needing Zach more and more—and not just for help.
Review: 
Entertaining enough to have been worth a read, but nothing to write home about. While the whole idea of a ghost seer is an interesting one and Claire and Zach could have been interesting characters, the truth is that I was bored for most of this book. Never enough to put the book down, but enough to just kind of plod along.
It takes at least half of the book for Claire to come to terms with her powers and I got very ver tired of the redundancies of her denials. Ditto for Zach; he just basically had the same thoughts of denial about his situation over and over and over again.
I disliked Claire, on top of everything else. I found her a fairly weak heroine. In fact, she's basically helpless without Zach there to save her. She even managed to fall down and twist an ankle while running for her life on a flat surface. She's THAT sort of heroine.
Further, I thought the kidnapping felt like a forced ploy to add tension and still failed to do that. He was defeated easily and contributed nothing needed to the plot.
All in all, it wasn't all bad, but I have the next two in the series, as I picked them all up at the library. But I don't think I'll be bothering to read them.