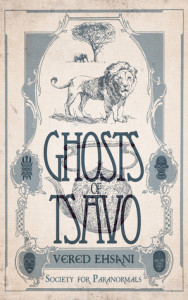 Author, Vered Ehsani sent me a copy of her novel Ghosts of Tsavo for review. It also happens to be available free on both Amazon and her website (multiple formats).
Description from Goodreads:
Armed with Victorian etiquette, a fully loaded walking stick and a dead husband, Beatrice Knight arrives in colonial Kenya desperate for a pot of tea and a pinch of cinnamon. But she'll need more than that if she's to unravel the mystery of the Ghosts of Tsavo without being eaten in the process. All this while surviving the machinations of her best friend's dashing godfather and the efforts of her safari guide to feed her to any lion willing to drag her away. What is a ghost-chasing widow to do?
This is Case #1 in the "Society for Paranormals" series: A series concerning dead husbands, African legends and the search for a perfect spot of tea. For those readers who adore "Pride & Prejudice" and would love to experience "The Parasol Protectorate" set in colonial Africa, this is for you!
Review:
I found this an entertaining read, very much in the style of Gail Carriger's Parasol Protectorate. In fact, if I had a major complaint, it would be that, despite a different setting and carrying a walking stick instead of a parasol, the character is just a little too like Alexia Tarabotti. Be that as it may, I did really quite like this. It's not an elaborate plot or an overly-detailed world and it takes a little while to settle down, in the beginning. But I enjoyed the African setting, Bee's voice as a narrator, the mystery, etc.
I did think the shrill of a wife was a bit cliched, as was the character's sense that all other females and all their silly femaleness were utterly ridiculous and dismissible. I thought the conclusion seemed a bit abrupt and I would have liked a little more of a wrap up of what happened to Kam and the twins. I was also disappointed to find it a bit of a cliffhanger, but all in all, I ended this happy enough to search out sequels.
There appear to be four full novels as well as a short story and a compendium of creatures found in the Ehsani world. That Night in Largos and From Africa With a Bite are both available for free at Ehsani's website.
I went ahead and read the short and skimmed some of the compendium. The latter didn't really hold my interest, but the story was amusing enough.