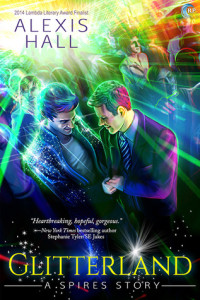 I bought a copy of Glitterland, by Alexis Hall.
Description from Goodreads:
Once the golden boy of the English literary scene, now a clinically depressed writer of pulp crime fiction, Ash Winters has given up on love, hope, happiness, and—most of all—himself. He lives his life between the cycles of his illness, haunted by the ghosts of other people's expectations.
Then a chance encounter at a stag party throws him into the arms of Essex boy Darian Taylor, an aspiring model who lives in a world of hair gel, fake tans, and fashion shows. By his own admission, Darian isn't the crispest lettuce in the fridge, but he cooks a mean cottage pie and makes Ash laugh, reminding him of what it's like to step beyond the boundaries of anxiety.
But Ash has been living in his own shadow for so long that he can't see past the glitter to the light. Can a man who doesn't trust himself ever trust in happiness? And how can a man who doesn't believe in happiness ever fight for his own?
Review:
I should admit up front that I am a relatively new reader of romance. Yeah, it's been a couple years since I picked that first one up, but that still leaves, like, 20 that I refused to. And it's only a little more recently that I started reading LGBT+ romance. Honestly, it's fairly recently that I even discovered it exists and have been kind of devouring it ever since, because het gender tropes make me crazy. (But I'm drifting.)
I'm newish to romance and though I enjoy it now, I still can't quite stand undiluted romance. If there isn't some other aspect to the plot beyond X & Y meet and fall in love, I'm out. So, despite being by one of my favorite authors, I put this book off. Eventually however, it just irritated me to no end to have one more AJH book out there that I hadn't read and gave in to its lure.
I'm glad I did because Ash's mental health, exhaustive anxiety and over-thinking was enough to keep me interested beyond the romance and sex (of which there was plenty). He's an eminently unlikable character, that dislike only partially negated by being pitiable. And Darian was just a darling. Presenting as shallow and simple, he was surprisingly adept at reading people and situations. He was also possibly the most forgiving human on earth.
This was my only real complaint with the book. I loved that he forgave Ash his many very serious foibles, but i thought he let some of them slide too easily, that last one especially. He felt a little door-mat like.
Then there is the Essex cant. A lot of readers disliked this. I however loved it. I thought it gave Darian's character such personality and made reading the book more colorful and enjoyable.
All in all, another success from Hall, as far as I'm concerned. Also, for anyone who's interested, there is a free short story available here that picks up just at the end of Glitterland.