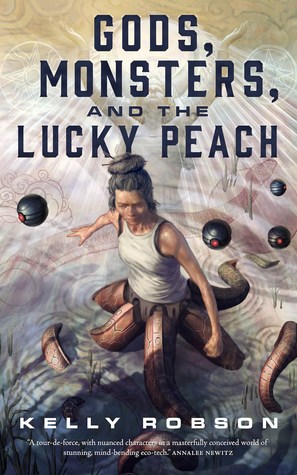 I borrowed a paperback copy of Kelly Robson's Gods, Monsters, and the Lucky Peach from the local library.
Description from Goodreads:
Discover a shifting history of adventure as humanity clashes over whether to repair their ruined planet or luxuriate in a less tainted pass.
In 2267, Earth has just begun to recover from worldwide ecological disasters. Minh is part of the generation that first moved back up to the surface of the Earth from the underground hells, to reclaim humanity's ancestral habitat. She's spent her entire life restoring river ecosystems, but lately the kind of long-term restoration projects Minh works on have been stalled due to the invention of time travel. When she gets the opportunity take a team to 2000 BC to survey the Tigris and Euphrates rivers, she jumps at the chance to uncover the secrets of the shadowy think tank that controls time travel technology. 
Review:
Not bad, and I liked it a lot more by the end than I did the beginning. I thought the way the two narratives were interspersed and eventually intersected was really clever and I liked the world with it's generational differences and integrated tech. (And I love that the main character is an 83-year-old woman.) But honestly I was bored for a lot of the time while reading this. So, my overall experience was middle of the road.