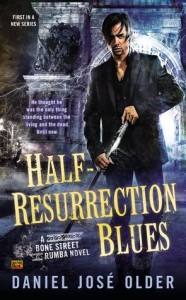 I checked a copy of Half-Resurrection Blues, by Daniel José Older, out from my local library. (And discovered that the cast on a broken wrist makes reading a paperback awkward and cumbersome. Grrr. Guess it really is too soon to give up the novelettes.)
Description from Goodreads:
Carlos Delacruz is one of the New York Council of the Dead's most unusual agents—an inbetweener, partially resurrected from a death he barely recalls suffering, after a life that's missing from his memory. He thinks he is one of a kind—until he encounters other entities walking the fine line between life and death. 
One inbetweener is a sorcerer. He's summoned a horde of implike ngks capable of eliminating spirits, and they're spreading through the city like a plague. They've already taken out some of NYCOD's finest, leaving Carlos desperate to stop their master before he opens up the entrada to the Underworld—which would destroy the balance between the living and the dead.
But in uncovering this man's identity, Carlos confronts the truth of his own life—and death…
Review:
I liked it, but I didn't love it. I liked Carlos. I liked the author's voice. I loved that the main character's gaze was Puerto Rican, therefore not white, and the reader is gifted with observations we rarely see. (This is part of why it's so important to have authors of color, not just characters.) I liked the idea of the story and plot. But I always felt like I was playing catch up, like I was never certain what was happening. Time was indeterminate and frequently large chunks of time would pass in what I thought had been a day or two of action. Characters seemed to know things without my knowing how and I just never felt deeply invested in the story.
Having said all that. I think that, though this particular book wasn't a huge winner for me, the author could be. I'll definitely be giving him another chance.
---
Now, outside of the review of the book Half Resurrection Blues, I have to give Older kudos and cool points because of this.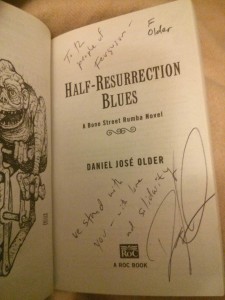 I'm taking it at face value and accepting it for just what it appears—an autographed copy of this book, probably donated to the Ferguson library in solidarity during the protests and social actions of last year. I'm a bit shocked to find it in regular circulation, but think it's fabulous and a great surprise on opening the book.