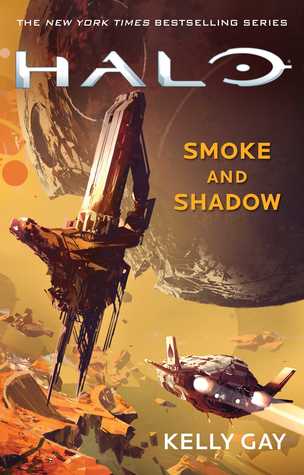 I won a paperback copy of Kelly Gay's contribution to the Halo universe, Smoke and Shadow.
Description from Goodreads:
Find. Claim. Profit. In a post-war galaxy littered with scrap, it's the salvager's motto. And with a fast ship and a lust for adventure, Rion Forge has certainly made her mark on the trade. When the discovery of a wrecked UNSC cruiser brings Rion's past back to haunt her, stirring fresh hope into a decades-old wound, she's hell-bent on finding answers: What really happened to her father and his ship, the Spirit of Fire?
Review:
As I said, I won this book through a giveaway and, having not read any of the previous 18 books or ever played the game, I was really going in blind with reading it. But I was able to follow it without problem and it was engaging enough. I felt it would have been better suited for a full-length novel than the novella it is. It could have done with the room to flesh it out. And there is a bit of predictable tragedy I'd have preferred to do without. But all in all, I'd be willing to read the next book in Gay's arc of the Halo franchise. (However, having just read a review of HALO: Renegades with some pretty major spoilers in it, I guess I don't need to. To be fair the reviewer was pointing out the events of other books in the universe that functioned as spoilers to Renegades, but having not read those other books it was their review that was the spoiler.)